Fresh, Organic Produce Available Year-Round!
ENJOY THE FARM CONNECTION
At Organic Oasis our goal is to re-connect people to their food source, offering real food, sustainably grown. Our produce is certified organic by Ecocert Canada so you can have every confidence that you're purchasing nutritious food that is free from toxic chemicals. Yet there is more to it than that. Farming from a holistic perspective is the approach we take, striving to nurture healthy soil which in turn determines the health of the plants, animals and ultimately the health of the end consumer – you.
This rustic 1800's building was possibly the original barn on the property, with some of the beams even coming from the old log house. It was later used as a shed to house farm machinery and has now become home to our "Organic Oasis Farm store".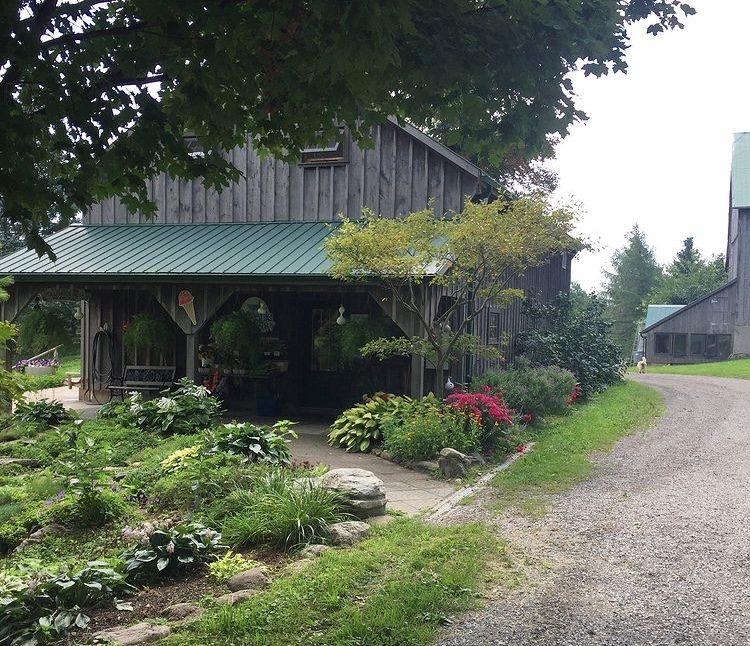 We left the original hand-hewn beams exposed to try and preserve as much of the original character, as possible, while adding a fresh new look. Our store is open Tuesday to Saturday offering you the bounties of each season
Each spring we offer organic seedlings for your home garden.
Summer and fall offer an abundance of fresh garden produce. And winter provides you with bounty from our greenhouses.
Frozen meats are available year-round along with eggs from our free range chickens. In our coolers and freezers you'll find organic dairy products (milk, cheese, butter and ice cream). Our shelves are stocked with our own raw honey and maple syrup, organic oils, flours, nuts, handcrafted soaps, biodegradable household products, beeswax candles, natural wool blankets and more.
Open Tuesday to Saturday, we offer more than just fresh groceries to take home. Come for a visit with friends, family, or for a relaxing day by yourself. We scoop organic ice cream from spring to fall and freshly brewed organic, fairtrade coffee is available year-round.
You can enjoy the tranquillity of our Pollinator Patio overlooking the walking trail, monarch hatchery and chicken yard. If you're up for some exercise you can visit the pigs at "Happy Hog Lookout", walk out to visit the cows on pasture, and see the gardens and greenhouses. We want to share the farm-to-table connection with you – come for a short respite at our Organic Oasis!